If you're not familiar with the term Augmented Reality (or AR), you've most likely at least seen it in action by now.
That's because unlike its cousin virtual reality (VR) - which requires a headset to remove us from this world and immerse us in another - AR uses your smartphone camera (or kiosk based camera) to turn the real world around you into a canvas that can be enriched with interactive virtual objects.
AR works by using computer vision and tracking through your camera to anchor a virtual object to a physical point in your environment. As you move your camera around it, or closer and further away, the object can maintain its scale and location in your view of the real world.
But even with all the potential you can imagine for technology like this, the quality of the experiences so far meant it was still easy to write off AR as a gimmick rather than a game-changer in the world of commerce.
Until now that is.
The term "augmented reality" was first coined and applied practically in the early 90s. It was developed by the U.S. Air Force and involved complicated and very elaborate setups.
Since then, there have been several attempts - like the Google Glass - at creating a lightweight headset that lets you view augmented reality on the go. But these were never really made with the masses in mind and ultimately were unsuccessful - the technology and the market just weren't ready for wearable AR.
But that wasn't the case for mobile AR. Snapchat's Lenses and the popular location-based game Pokémon Go familiarized users with the idea of interacting with virtual objects through their smartphone camera in what were the first significant examples of consumers embracing AR.
By the virtue of the Augmented Reality technology, you can scan your environment, items, or even body through any retail mobile app and check the related items that perfectly fit in your scanned environment.
In the present retail market, numerous retail stores are using AR-powered applications to create a great user experience and decrease the in-store staff. For example, Lego Ikea, Lacoste, Converse, American Apparel, and many other retail stores are using AR-powered apps to check the items through the app. By using AR-powered apps you can scan your family room and check the suitable furniture that is 100 percent matching to the space. You can scan your feet and choose the right shoes available in the store by trying shoes remotely from home. You can do it for the clothes and other items too.
Lego cleverly shows an animated completed set assembled on top of a product box that is held beneath and in-store scanner and have since launched AR apps that make it easier for customers to design their LEGO creations, video games, and products that integrate other products' virtual versions.

Lacoste created the LCST Lacoste AR mobile app that customers could use to virtually try on shoes. The app also created AR experiences with window displays, in-store signage, and promotional postcards.
Bringing the In-Store Experience to Consumers' Homes
AR has also proven an effective way to bring the in-store experience to life in a virtual sense. Rather than customers visiting your store, AR allows them to experience your products and services right in their homes.
Swedish furniture manufacturer IKEA does a particularly impressive job with their IKEA Place app. Adidas launched a line of sneakers that unlocked an AR for customers at home. After buying the sneakers, customers would take the shoe home and hold it up to their computer's webcam or smart device camera so it could read the embedded code on the tongue. Customers would then find themselves in a virtual world which they could navigate through using their sneaker as a controller.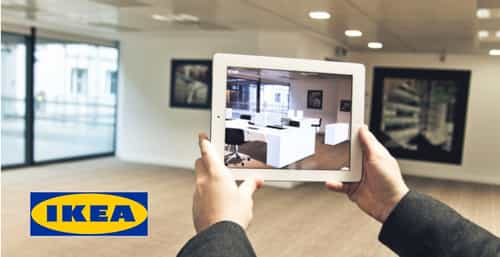 What Are the Major Benefits Of Augmented Reality?
Augmented Reality is going to play a very vital role in the prospects of retail markets worldwide. There are many great reasons for the promising future of AR technology. Let's discuss a few of those benefits of AR technology.
#1 Great User Experience
AR technology creates a great user experience by providing the in-store experience irrespective of the location of the customer. Customers use AR-powered applications to superimpose the product on the desired area or body parts what the products are desired for and find out the accurate choice that suits the requirements of the customer.
#2 Reduced Operational Cost
With the efficient use of AR technology in mobile apps and the integrated shopping system it can reduce the retail store operational costs significantly. More than 30 percent of the products are returned in normal conditions, which can be a huge cost on the retail stores. An AR-powered decision will reduce the product return ratio significantly. The number of in-store employees will reduce with the implementation of AR technology. AR technology-based apps will ultimately help the customers much better than an in-store employee can help him/her.
#3 Collection of Customer Behavior Info
With the help of AR technology, the retailers can get more detailed information about the choices, interests, size, and other kinds of information, which can be better utilized for increasing customer engagement and loyalty. The future of the retail market will rely on better business intelligence. AR will help you collect the right business information, which can help the retail stores create a competitive edge over their competitors.
#4 Improved Personalized Product Ordering
AR technology will help the customers to order personalized products more easily. An AR-powered mobile app can easily take the personalized order by taking the right and accurate choice of the customer. This increases the customer experience, satisfaction, and productivity of retail stores.
Final Takeaway
The technology-based retail market is growing very fast worldwide. Augmented Reality is playing a vital role in the present, and it is going to leave an unprecedented impact on the future of the retail markets. AR offers great benefits to both physical and online retailers as well as to the online shoppers to create a great experience and increase customer satisfaction.
There's still a lot to figure out, but as with all game-changing technology that was once young and untapped, it's only a matter of time until the world of tomorrow becomes todays. With the youth of today growing up with more AR based entertainment at their fingertips it is inevitable that technology such as AR will become a part of everyday retail life.
This is only the beginning for augmented reality.
Example Videos
Adidas - https://youtu.be/uvrYtb8UT9g
Ikea - https://www.youtube.com/watch?v=UudV1VdFtuQ
Lego - https://www.youtube.com/watch?v=-N85srjA-GQ
Lacoste - https://youtu.be/JcMOyMudH88